We recognize that all of our patients are unique and deserve to receive dental care that reflects their individual needs. Our experienced and talented dental team is committed to working with you and your family to create a comfortable, stress-free, and rewarding dental experience every time you visit our practice. We are pleased to welcome you and your family, and we look forward to working with you.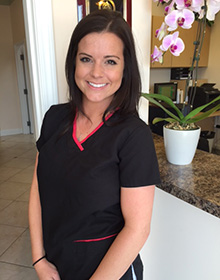 Annie
Dental Assistant
Annie works closely with our doctors to complete Invisalign® cases. She is the leader for our state-of-the-art iTero® scanning system. Annie is a 2009 Everest graduate and joined our office in 2014. She enjoys getting to work with a variety of different people from day to day.
In her free time, Annie is usually at competitive cheer competitions for her daughter, Aleena. She has two boxer dogs and loves to cook.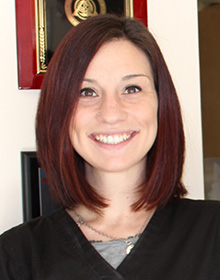 Caitlin
Dental Assistant
Caitlin can be found setting up for procedures and assisting the general doctors, oral surgeon, and periodontist. She graduated from Everest College in 2013 and joined us in 2016. Her favorite aspect of her job is teaching patients about healthy gums and teeth for life, as well as giving confidence to her patients about their smiles.
Caitlin has two kids, Braydon and Marley. They like to play games, go to the park, and bake goodies together at home with her husband! She also has a dog Sebastian, who is a Husky.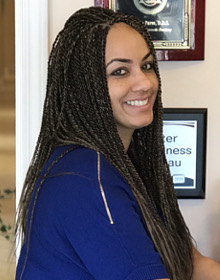 Khristine
Front Desk Team Leader
As the team leader, Khristine is here to answer questions, plan for appointments, help resolve concerns, and make our patients' visits positive. She also assists by discussing treatment plans and coordinating finances, insurance benefits, and dental claims. Khristine began her career in the Navy as a dental assistant and joined us in 2017. She enjoys helping patients find the best way to make their treatment financially possible. Her goal is to guide patients in scheduling treatment without feeling overwhelmed in the process.
Khristine is originally from New York. Family is very important to her, so in her free time, she enjoys being with her kids and dog. She is very goal oriented and always strives to reach the next level in life and in her work. Her motto is, "Accept what is, let go of what was, and have faith in what will be."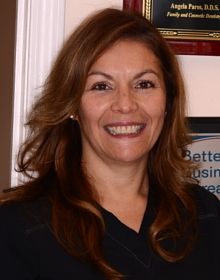 Magaly
Dental Assistant
Magaly assists our dentist and all specialists, prepares rooms for treatment, takes impressions, and puts together treatment plans. She graduated from Intellitec Medical Institute with her certificate in dental assisting in 2005 and joined High Point Dental Group in 2018. Magaly finds satisfaction in knowing that she helps patients and provides a valuable health service.
Magaly is married to Jose Agustin Vera. She has two kids, Ian and Marah, as well as two dogs and a cat. Magaly and her family enjoy going out to eat, going to the movies, riding bikes, hiking, and traveling.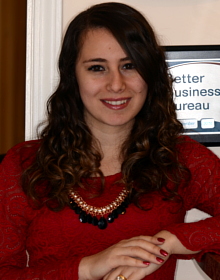 Ruthie
Front Desk Patient Coordinator
Ruthie schedules patient appointments and helps patients with questions regarding insurance. She also presents treatment plans to patients so they have the best understanding of their planned dental needs. Ruthie was a dental assistant prior to moving to a front desk position. She graduated from COD with an Associate's degree in science. Ruthie enjoys interacting with and building relationships with patients on a daily basis.
Ruthie is married and has two cats, Misty and Missy. In her free time, she enjoys spending time with her family. Her favorite place to be is on the beach and she would love to travel more in the future.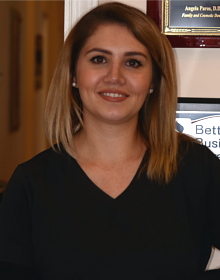 Semra
Dental Assistant
Semra assists with sterilization, sets up dental treatment rooms, and works with our dentists performing four-handed dentistry. She is a recent graduate of Novera Center for dental assisting and is excited to be a member of High Point Dental Group. Semra's goal is to make patients feel comfortable. She finds it very rewarding to watch them leave with a smile.
Semra loves to cook, listen to music, and spend time with her husband and three daughters. She enjoys going to the movies on the weekends, going on vacations, and having family gatherings.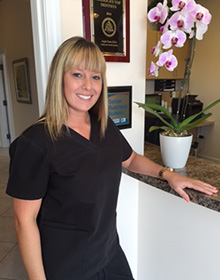 Stephanie
Dental Assistant/Clinical Team Leader
Stephanie is our lead surgical assistant and a 2007 graduate of Everest College. Her exceptional clinical skills make her essential during oral surgery including All on 4® implants and bridges, and full mouth rehabilitation cases.
At home, Stephanie loves to hang out with her two boys, Brenden and Braeden, and enjoys their sporting events. She also loves to cook and is very competitive.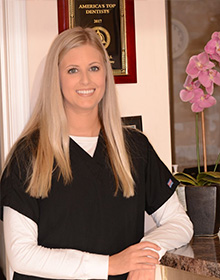 Sydney
Dental Hygienist
Sydney works closely with patients to provide education about their dental and periodontal health needs. She graduated from Southern Illinois University with a Bachelor of Science in Dental Hygiene, Summa Cum Laude, in 2015. Sydney works hard to create a comfortable, inviting environment for her patients through gentle yet thorough cleanings, as well as building lasting relationships. She looks forward to seeing her returning patients to catch up.
In Sydney's free time, she is usually playing with and going on walks with her puppy, Honey. If she's not at home, she also enjoys trying out new restaurants with her boyfriend or spending time with her two little nieces!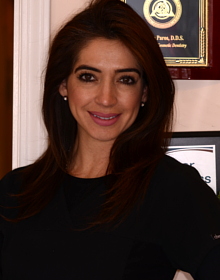 Yolanda
Dental Hygienist
Yolanda delivers customized quality care to her patients while providing education on oral health and systemic links to improve and maintain good overall health. She earned her Associate's in Applied Science in 2005 and joined High Point Dental Group in 2018. Yolanda appreciates our office's culture of teamwork, focusing on our patients overall experience, while learning from one another in the process.
Born in California, Yolanda was raised in the Chicagoland area. She is a mother of four handsome boys and two energetic dogs. She is passionate about fitness and healthy eating, so when she's not spending time with her family, you can find her in the gym or in the kitchen, creating healthy yet authentic meals. She has also been known to binge watch Netflix on an occasion or two.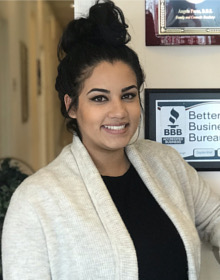 Zayda
Front Desk Coordinator
Zayda assists patients by handling their insurance claims, making appointments, and verifying patient accounts. She has an Associate's degree in business and has been working in the dental field since 2016. Zayda's top priority is building a connection with our patients. She finds coming to work very enjoyable thanks to our helpful and supportive staff.
Zayda grew up as a military child, so she got to move around a lot and experienced a lot of the world. She enjoys spending her free time with her son and her family, working out, and having a good time.